The City School's Data Snapshot
Wonder how youth develop their skills around social justice and leadrership? View the highlights of our data from this past summer here.
---
Raising a Social Justice Leader: Fall Parent Circle
"Parenting a teen who embraces social justice and chooses to be a change-maker in the world is such a powerful thing! And it can be a huge headache! So having a thoughtful place like the Parents Circle to meet with other parents and caretakers, who also want to support and understand their teen, is amazing." - Mea Johnson, parent of Tobias Chance, SLP '15.
The City School's mission and core work will always be with high school students, but in the past few years, we've been stepping up our work to engage the parents of the social justice leaders in addition to their children!
On October 8th, The City School and Boston Mobilization co-hosted a Parent Circle event, where parents and grandparents of SLP graduates ranging from 2010 to 2015 came together. The theme of the dinner discussion was the joys and challenges of raising a social justice leader.
Photos from our Parent Circle Dinner: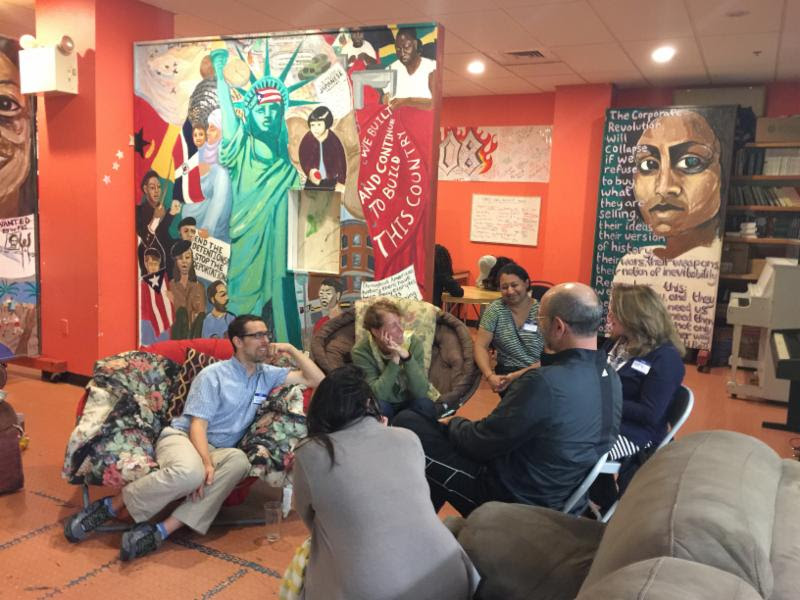 Lyn Freundlich (TCS Board member and parents) shares her experience of parenting a social justice leader over many years.
Myriam shares her own experience as a parent, activist and new Executive Director.
A highlight was one parent sharing how SLP teens had protested the company she worked for, calling for increased youth employment at this company, and how she and the youth leaders had been able to engage in productive and respectful dialogue around the issue. 
Other parents shared what they admired and appreciated about their young people. Lyn Freundlich, parent of Jordan Freundlich '10, reflected, "I loved the chance to listen to other parents talk about what they appreciate about their young people. Too often I hear parents complain about their teenagers. It was really nice to be in the company of other adults who really enjoy theirs."
Colleen Hovey, parent of Nick Bator '13, added, "Parent Circle events are so energizing.  I meet the fascinating parents who are so committed to their children, who come to show support for their children and the City School, and who bring valuable insights to what it is to parent a youth who, at a young age, is finding his/her/their voice for social justice across diversity.  The meetings make me realize how important our support is to our youth and the City School program."
Mark your calendars for our next Parent Circle event, an SLP recruitment event with youth and families on 
Thursday, February 4th, 2016
. For more information or to become a member of the Parent Circle, please e-mail Tara at 
tara@thecityschool.org
.